4 Sons Frozen Drinks
Frozen drinks are yummy year-round but there's something about the Arizona heat that makes them oh-so-refreshing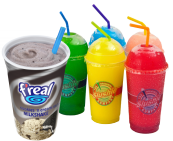 in the summer months.  And since we experience heat for longer than just the 3-month summer, our customers buy lots of frozen drinks.  That means we take this category very seriously, offering three delicious options:  Below Zero, Slushie, and F'real. 

Below Zero frozen carbonated beverages are exactly what they sound like:  an icy treat with tickling bubbles.  Our top four flavors are Cola, Extreme Strawberry, Cherry Lime-Ade, and Blue Raspberry.  It's hard to pick a favorite.

If you need a break from carbonation, Slushies are the perfect alternative.  Same idea as Below Zero but with thicker ice and no bubbles, offered in Sour Apple, Watermelon, Strawberry, and Blue Raspberry.  If you are more of an artist, combine flavors to make your own dreamy concoction.

And a new favorite, F'real, offers a do-it-yourself smoothie, shake and malt bar.  We have Chocolate, Vanilla, Strawberry, Chocolate Malt, Cookies & Cream, Mint, Reese's, and Strawberry & Banana Smoothie.  You pick your flavor and thickness, and the machine does the rest.  A made-to-order frozen dessert…how can you resist?