Deli
Fresh, soft bread.  Crunchy lettuce.  Thick layers of meat.  There's something about a sandwich that satisfies every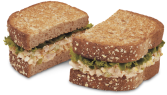 time.  Dare we call it comfort food?  We dare.  And if you're lucky enough to walk into some of our specialty locations, you'll find breakfast sandwiches, too, made with hot biscuits or croissants, sausage or bacon, American cheese, and eggs.  

Crunchy, salty chips topped with gooey, delicious cheese, chili, or both.  It's hard to improve on that combination.  Until Frito Lay sent us Tostitos, Salsa Verde Doritos, and Fritos.  Now, every bite explodes with flavor.  Even after you've scraped up the last of the cheese and all that's left are chips, you'll still get satisfying bites.  And we'll always carry the original tortilla chips for those classic nacho lovers. 

What is it about a big, soft pretzel with the gooey center and chunks of salt scattered on top?  Everybody loves to sink their teeth into one.  Some folks like them just the way they are.  Some like them warm and steamy.  Some even like them dipped in mustard.  Any way you like it, we have it for you.